Kalo Mina - Good Month - Aprílios - April ...
Easter Monday, Not a bad afternoon here on the rock ...
April 1st and its 21 Degrees in the shade on the harbour, quite a few locals out enjoying the afternoon sunshine.
One friend had to retreat as their I-Phone displayed a warning message. It needed to cool down before it could operate.
Quite a few people felt like that too, enjoying a beer in the sun as they slowly went lobster red ...
PS: Highlight of the day was when one young holidaymaker, caught a Perka on a hand line - Not a bad catch at all ...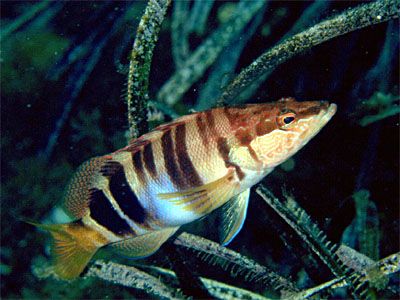 (Serranus scriba)
Painted comber - 'Perka'
All content, including Photographs, graphics, text, © The Skiathian 2010-2013. All rights reserved.