I arranged to meet Vasilis Korallis
(Author of the Walks of Skiathos Island)
for my annual delivery of Oregano, from his secret stash up in the hills. We arranged the covert delivery, outside a place we both know in town.
He said, "How will I recognise you" ?
I said "I am the guy with a limp - with a parrot on his shoulder"
Todays consignment included a bonus years worth of mint too ...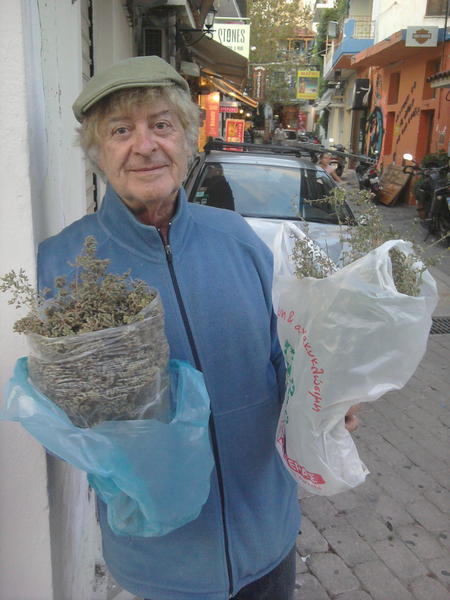 Now I have a substantial supply, thanks to the best forager on the island. So we went to another place we know named after a beer on the paralia, for a coffee, and a catch up. Me with my shopping, from the supermarket, and my bag bursting with the most amazing Bouquet Garni that you could imagine.
Some English friends, who are still here on holiday, stopped to take in the fragrant heady aroma - They had just enjoyed a great afternoon at Taverna Stamatis. They were enthusing about the meze, and the excellent hospitality they had recieved ...

However even they could not believe the scent, from the drying herbs - this despite the stiffening breeze here this evening ...