As the season goes to sleep you still see some funny sights ...
Tonight must have been 'ladies night' I met some lovely people from Holland, so nice I was not sure what they wanted, but we got there in the end.
There was the couple that stopped for a chat, whats that over there, Is that the mainland there ...
"Is that Skopelos"? She asked, looking at the land mass a kilometre away over the water
"No, Its the Pounta" I said ...
"Are you sure? I did not think there was another island, between here and Skopelos"
"I have been here three times and am sure that is Skopelos" and then I noticed the watery eyes ...
Another lady, yawned, her 'huge extended open mouth' reminded me, of a TV character of my youth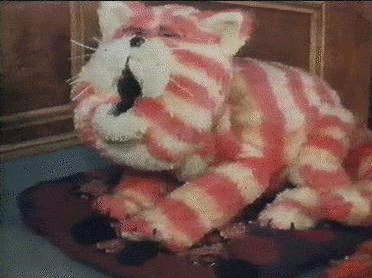 There is no truth in the rumour, that I am holidaying in Skiathos this year ...
Later the comedy started as I enjoyed a cup of tea. Along came one lady with the giggles, heading towards the bus stop, and at one time towards the harbour itself. Her husband managed to steer her away from the impending collision with both ourselves, and the electrical distribution box.
"She's had a glass of wine too many" he said ...
"Actually two" she said, leaning back, talking over the wrong shoulder, and raising two fingers in the air.
Somehow, her husband managed to keep her upright, and they took an eliptical course, towards the taxi rank, and the hangover from hell ...
For some reason, the passing cabaret, kept us visually occupied, long past normal closing time.
Then along they came ...
Two English roses, dressed immaculately in light summer dresses, One clearly having had a Pimms too many.
"Oh look - They go there" roughly pointing towards the
Sea of Tranquility
on the somewhat bright, and rather distant Full moon ...
The quieter one of the two stood back, as the 'Hyacinth Bouquet' type, told us what was expected. Every answer was cut short, with another statement or question, as the Pimms addled brain, failed to compute.
'Hyacinth' told her friend this is exactly what they wanted, her friend looked like she wanted nothing more, than a comforting pillow and earplugs.
"Oh come on Miriam, you have been a miserable moo all evening, Look we will go, I will pay" said Hyacinth.
Thats nice, I thought and generous too, after what she had just said ...
'Hyacinth' then as she surveyed the purse said, "You can give me your share now" ...
I really must video some of this entertainment for you ...