We are blessed at last with some spring sunshine ...
I spent the weekend on the paralia enjoying the sun. Skipping stones on the water with Junior, and some other children from the small beach by the Bourtzi. It was nice chatting with the other parents, as we gathered by the small play area by the fishing harbour. So many children now drawn out (or allowed) from their houses with their parents, now there was a first glow of spring warmth after a long cold winter.
The view across the sea is stunning, the snow glinting off the mountains over on Evia. The sea a glistening turquoise blue. The low sun catching many unaware, and lobster red faces appearing as we enjoyed the afternoon sunshine - aided by a glass of tsipouro, and a lovely fish meze.
Lots of fun on the paralia, with children in fancy dress costumes, ninjas, princesses, pirates all around. As we enjoyed lunch, along came a tractor, towing a trailer blaring music. The tractor decorated with a clowns face at the front. Four adults in wigs, costumes and one carrying an incense burner - trailing scented smoke as they blessed us all in the tavernas. It was without doubt one of the funniest things i have seen. Apparently this is the 'Trata' or the captains wife celebration representing Dionysis.
On the way back surrounded by children, they stopped outside
Kabourelias
where we were - 'enjoying lunch' and were offered free tsipouro - only for them to send it back (Crazy enough - or had enough already) and beer were offered instead and enjoyed.
Photo by kind permission of Victoria
at Skiathos Books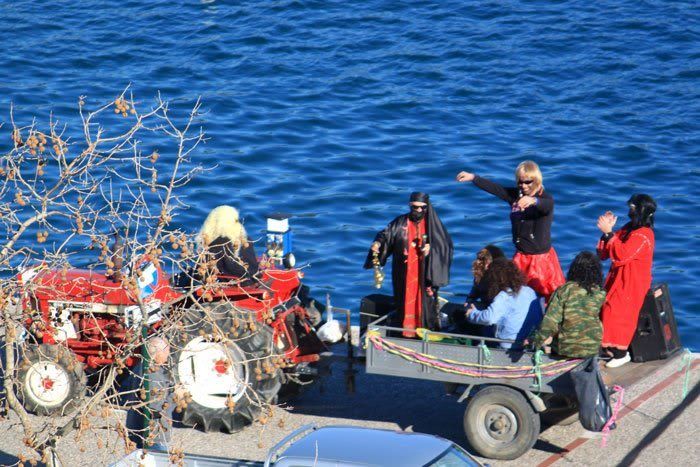 All part of the springtime fun, here on a small rock in the aegean ...